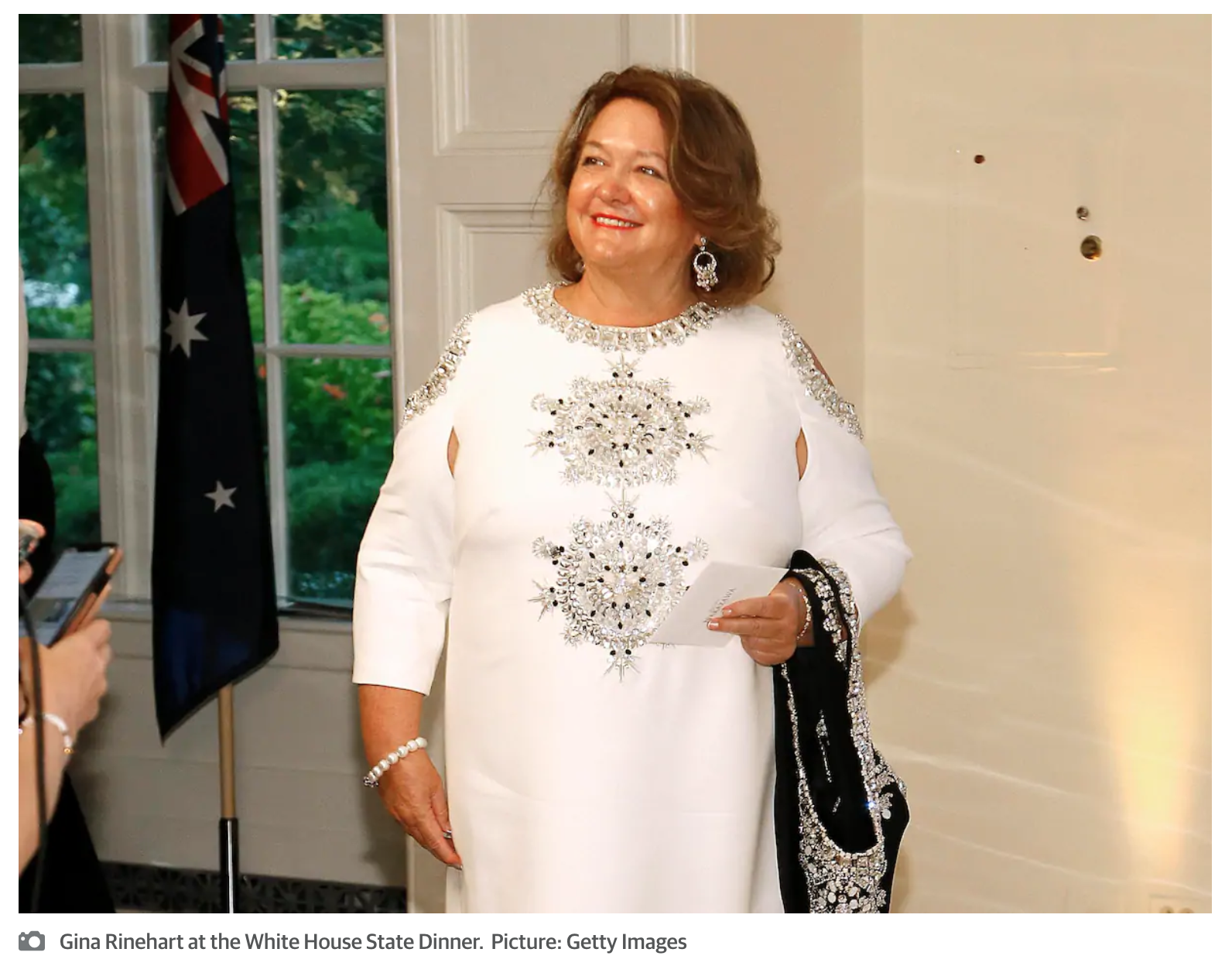 Article by Lanai Scarr courtesy of the West Australian – Photograph of Mrs Rinehart via Getty.
Scott Morrison dined with a who's who of Australian and American business and political elite at a lavish state dinner hosted in his honour by Donald Trump at the White House.
Crickets chirped on a balmy autumn evening in Washington DC as 173 guests – not including the Prime Minister, President and their wives –  packed the Rose Garden just outside the Oval Office for the alfresco affair under the stars.
West Australians were well and truly over-represented at the dinner with Seven West Media chairman Kerry Stokes and billionaire miners Gina Rinehart and Andrew Twiggy Forrest and his wife Nicola among those on the guest list.
Other attendees included Aussie celebrity chef Curtis Stone and his wife Lindsay, News Corp's Lachlan Murdoch and his wife Sarah, billionaire Anthony Pratt and his partner Claudine Revere, Macquarie Bank boss Shemara Wikramanayake and husband Michael Silverton and Quantum physicist and former Australian of the year Michelle Simmons.
Mr Pratt said "it's a great honour" Mr Trump and Mr Morrison would come to see his new cardboard box factory in Ohio today.
Champion golfer Greg Norman and his wife Kirsten Kutner were also there. Norman said he wanted to persuade Mr Trump to come to Australia, and defended his old friend's golf habit. Nobody can golf too much, he said.
Among the American guests were Vice President Mike and wife Karen Pence, former New York mayor Rudy Giuliani with date Dr Maria Ryan, former US secretary of state Henry Kissinger and Las Vegas casino mogul Phil Ruffin.
Mr Trump was flanked by Jenny Morrison and Sarah Murdoch at the head table, while Mr Morrison had Melania Trump and Supreme Court Justice Clarence Thomas on either side. Anthony Pratt and Greg Norman also joined the main table.
After official photos at the North Portico, the President, First Lady and the Morrisons joined the dinner and entered as Hail to the Chief played and guests applauded.
In his toast – underlying his burgeoning bromance with Mr Morrison, whom he has nicknamed the "man of titanium" Mr Trump said Australia was a very special country.
He marked more than a century of loyal and devoted friendship" between the two countries, discussed advancements in science, art, music and culture and paid tribute to those who paid the supreme sacrifice so we may live in safety and peace.
Mr Morrison referenced his political hero and former US president Theodore Roosevelt, likening him to Mr Trump, another "unconventional" president.
He said Australia would always have strong ties with America, and spoke of his honour of being asked to visit the United States and given a state dinner.
"Australia could never be accused of an indifference of friendship" he said.
Mr Morrison also paid tribute to First Lady Melania Trump, who organised the affair, for her kindness, warmth and quiet grace.
He then announced at the state dinner he would fund a life-sized statue somewhere in Washington of Leslie "Bull" Allen, who was awarded the United States Silver Star for carrying 12 wounded American soldiers to safety while in combat.
Mr Morrison had earlier given Mr Trump a bronze figurine of Allen. In his toast, Mr Trump also praised his wife. "I want to express my gratitude to America's magnificent First Lady for this totally exquisite evening. Thank you very much. You worked very hard on this … Great job, really great job, honey" he said.
Earlier in the day, Mr Trump indicated again he would like to visit Australia later in the year for the President's Cup golf tournament.
"We'll have to see what the schedule is but I would love to do it", the President said.
Mr Trump and Mr Morrison enjoyed the dinner after a busy day of meetings, which included the Morrisons' official welcome on the South Lawn in front of a crowd of 4500, an impromptu press conference in the Oval Office, a full meeting with the Trump Cabinet as well as with intelligence chiefs at the Pentagon.
Mr Trump also announced new sanctions on Iran and his administration announced the deployment of additional US troops to the Persian Gulf region in response to a recent attack on the Saudi oil industry.
The state dinner is the second of the Trump administration and also the second in the Rose Garden in recent history.
Guests dined on sunchoke ravioli, Dover sole, zucchini squash and fennel mousseline and a dessert of lady apple tarts and calvados ice-cream.
At 10.30pm Mrs Trump stood briefly to thank her guests and honour the musicians from the US Army, Marine Corps, Navy and Air Force who were stationed around the garden and on the roof, playing melodies throughout the night, including Battle Hymn of the Republic, What a Wonderful World and Simple Gifts.
The band ended the night with a rendition of Waltzing Matilda.