Media courtesy of Ian Woods and Sky News.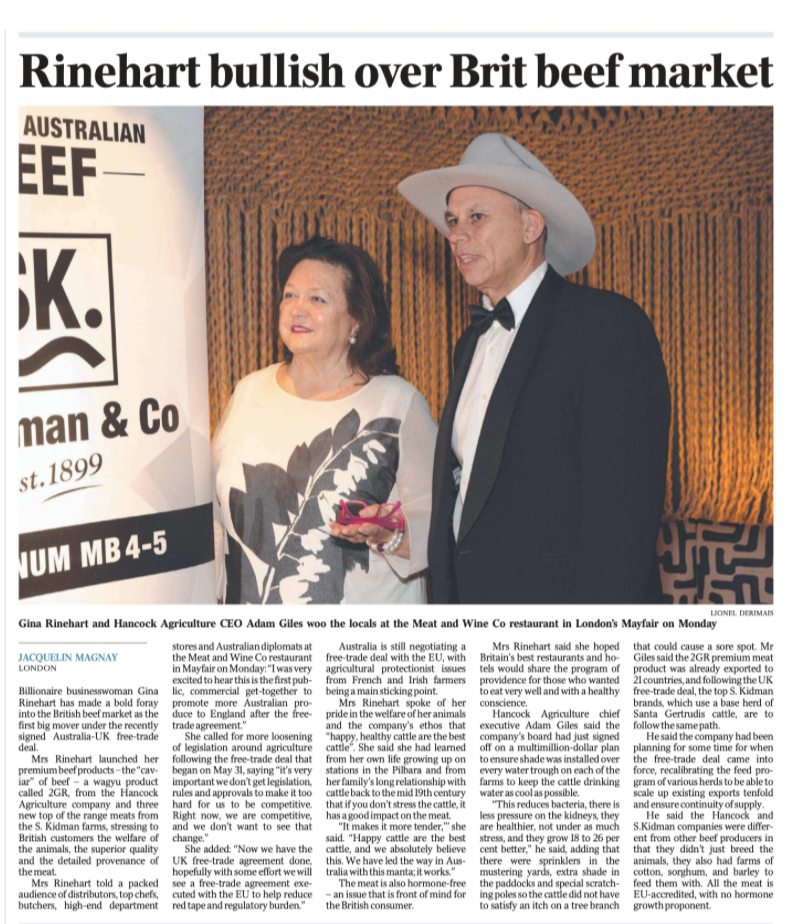 Article by Jacquelin Magnay courtesy of the Australian.
Australia's billionaire businesswoman Gina Rinehart has made a bold foray into the British beef market as the first big mover under the recently signed Australia-UK free trade deal.
Mrs Rinehart launched her premium beef products – the "caviar'' of beef – a wagyu product called 2GR, from the Hancock Agriculture company and three new top of the range meats from the S. Kidman farms, stressing to British customers the welfare of the animals, the superior quality and the detailed provenance of the meat.
Mrs Rinehart told a packed audience of distributors, top chefs, butchers, high-end department stores and Australian diplomats at the swish Meat and Wine Co restaurant in Mayfair on Monday: "I was very excited to hear this is the first public, commercial get together to promote more Australian produce to England after the free trade agreement, so I am very excited we are the first."
She called for more loosening of legislation around agriculture following the UK free trade deal which began on May 31, saying "it's very important we don't get legislation, rules and approvals to make it too hard for us to be competitive. Right now we are competitive, and we don't want to see that change."
Mrs Rinehart added: "Now we have the UK free trade agreement done, hopefully with some effort, we will see a free-trade agreement executed with the European Union to help reduce red tape and regulatory burden."
Australia is still negotiating a free trade deal with the EU, with agricultural protectionist issues from French and Irish farmers being a main sticking point.
Mrs Rinehart spoke about her pride in the welfare of her animals and the company's ethos that "happy, healthy cattle are the best cattle". She said she had learned from her own life growing up on stations in the Pilbara and from her family's long relationship with cattle back to the mid 19th century – that if you don't stress the cattle, it has a good impact on the meat.
"It makes it more tender,"' she said.
"Happy cattle are the best cattle, and we absolutely believe this. We have led the way in Australia with this manta, it works."
The meat is also hormone free – an issue that is front of mind for the British consumer.
Geologist Ian Plimer says agriculture and mining run Australia, but the industries have been attacked by bureaucrats for decades. 
Mr Plimer's comments come after businesswoman Gina Rinehart was awarded Western Australian of the Year. "She's the greatest Australian woman this country has ever produced, perhaps the greatest Australian this country has ever produced," Mr Plimer said. "If it were not for what she has done, we would have lost some of the icons in this country, such as the Kidman Company. "She has been a huge supporter of the agricultural industry; she has started mines in places where there were previously no mines."
Ms Rinehart said she hoped Britain's best restaurants and hotels will share the
program of providence for those who want to eat very well and with a healthy conscience.
Hancock Agriculture chief executive Adam Giles said the Hancock Agriculture company board had just signed off a multimillion-dollar plan to ensure shade is installed over every water trough on each of the farms to keep the cattle drinking water as cool as possible.
"This reduces bacteria, there is less pressure on the kidneys, they are healthier, not under as much stress, and they also grow 18 to 26 per cent better," adding that there were sprinklers in the mustering yards, extra shade in the paddocks and special scratching poles so that the cattle don't have to satisfy an itch on a tree branch that could cause a sore spot on the meat.
Mr Giles said the 2GR premium meat product was already exported to 21 countries, and following the free trade deal, the top S. Kidman brands, which use a base herd of the magnificent Santa Gertrudis cattle, are to follow the same export path.
He said the company had been planning for some time for when the free trade deal came into force, recalibrating the feed program of various herds to be able to scale up existing exports tenfold and ensure continuity of supply.
He said the Hancock and S.Kidman companies were different to others because they didn't just breed the animals, they also have the farms of cotton, sorghum, and barley to feed them with.
Mr Giles said: "I can tell you not just where the cow came from, but what farm it came from, I can tell you the bull, the feed ration it has been on, I can tell you if the cotton seed in feed is from Queensland or NSW." He added, "we don't want to just flog off meat, we want you to share our story with your consumers."
The new products to hit the British market will be Kidman 120 Day Grain Fed Santa Gertrudis, Kidman Premium 180 Day Grain Fed marble score 2-3 and Kidman Platinum 360 Day Grain Fed marble score 4-5+.
All of the meat is European Union accredited high quality beef and free of hormone growth proponent.