Jacob, 9, Lachie, 7, and Clem, 4, at the now flooded Durham Downs station.
Article by Paul Starick courtesy of Adelaide Now.
Outback cattleman Nathan Keough told his three boys they could have a day off school if more than three inches (76mm) of rain fell on their Channel Country property.
The next morning, the station manager for Adelaide-headquartered S Kidman & Co was rejoicing in an overnight downpour, as were his wife Jodie and sons Jacob, 9, Lachie, 7, and Clem, 4.
Drought-breaking rains began at the end of March.
"To tell them and our staff that we had a total of five inches (127mm) is something I'll never forget – the happiness was overwhelming for us all, plus a day off school to jump in puddles was pretty fantastic," said Mr Keough, who manages Durham Downs in southeast Queensland.
"This rain has allowed the Cooper Creek to flow again down to Innamincka (in northeastern South Australia) and the whole country looks an absolute picture at the moment. Follow-up rain is needed to grow longer-withstanding grasses, but we are happy with what we have for now."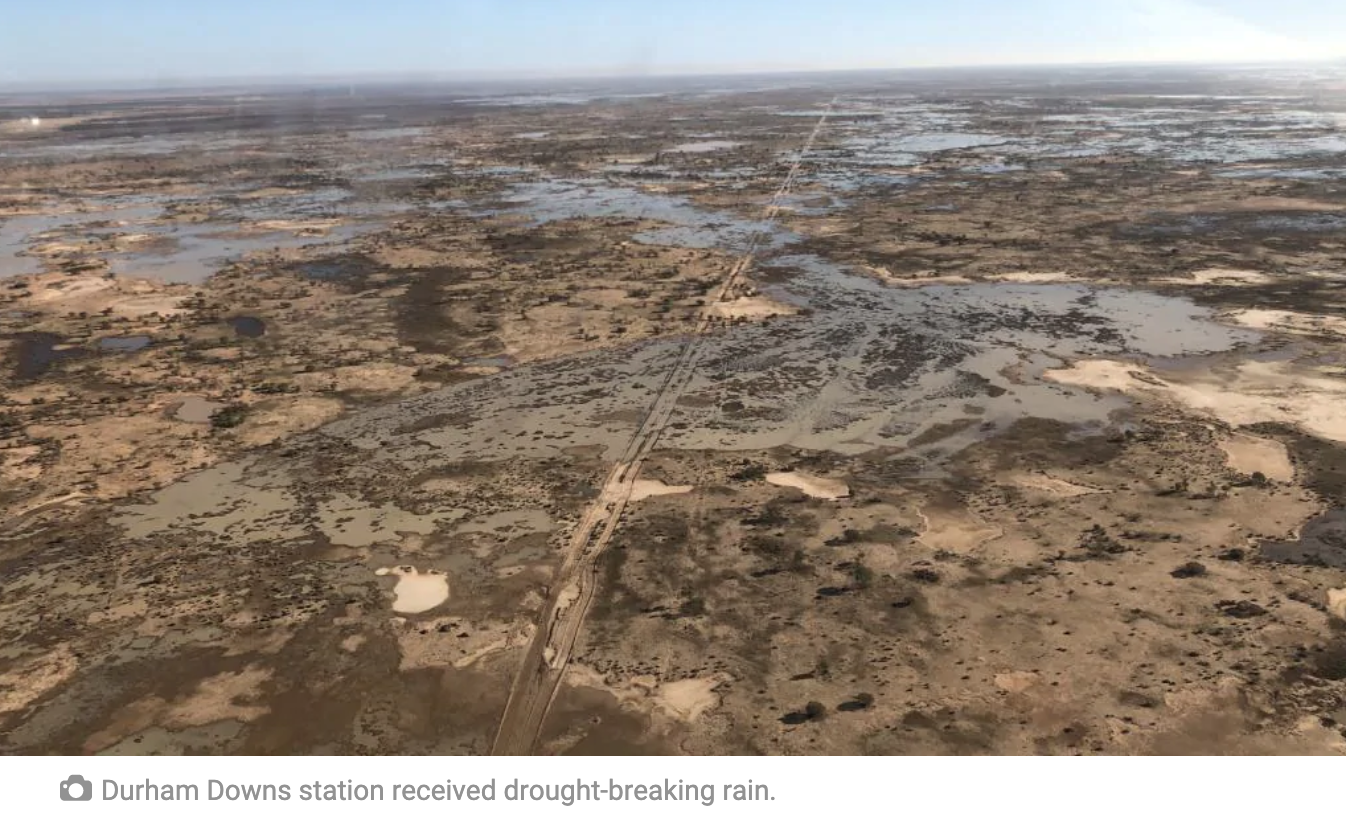 Rain has fallen across much of Central Australia, spanning Kidman stations at Innamincka in northeastern South Australia and Helen Springs, north of Tennant Creek in the Northern Territory.
Mr Keough's optimism is echoed by Kidman's chief executive David Larkin, also chief executive of parent company Hancock Agriculture – chaired by billionaire pastoralist and mining magnate Gina Rinehart.
"The rain that has been received over March has provided some badly needed and very welcome relief for our pastoralists and cattle," Mr Larkin said.
"With the COVID-19 pandemic likely to put Australia into recession, if it has not already, we cannot underestimate the wide-reaching effects that this has on our farmers and the broader agriculture industry."
Mr Larkin said investments in Kidman properties since Mrs Rinehart became principal owner in late December 2016 – including water, shade points and aircraft – had put the firm in a better position than others to leverage off favourable weather conditions and help feed the country during the crisis.
"Now more than ever, with our industry feeding the nation during COVID-19, it's time to get behind our farmers," Mr Larkin said.
"It's time for the governments, state and federal, to realise that after the long and severe drought (and) widespread bushfires, none of which are possible to quickly recover from, government must drop its onerous burdens on the agricultural industry if it wants our farmers, indeed much of our industry, to survive."
Mr Larkin wanted taxes and red tape for farmers cut, and said they will need more than "crippling loans which they will have trouble repaying".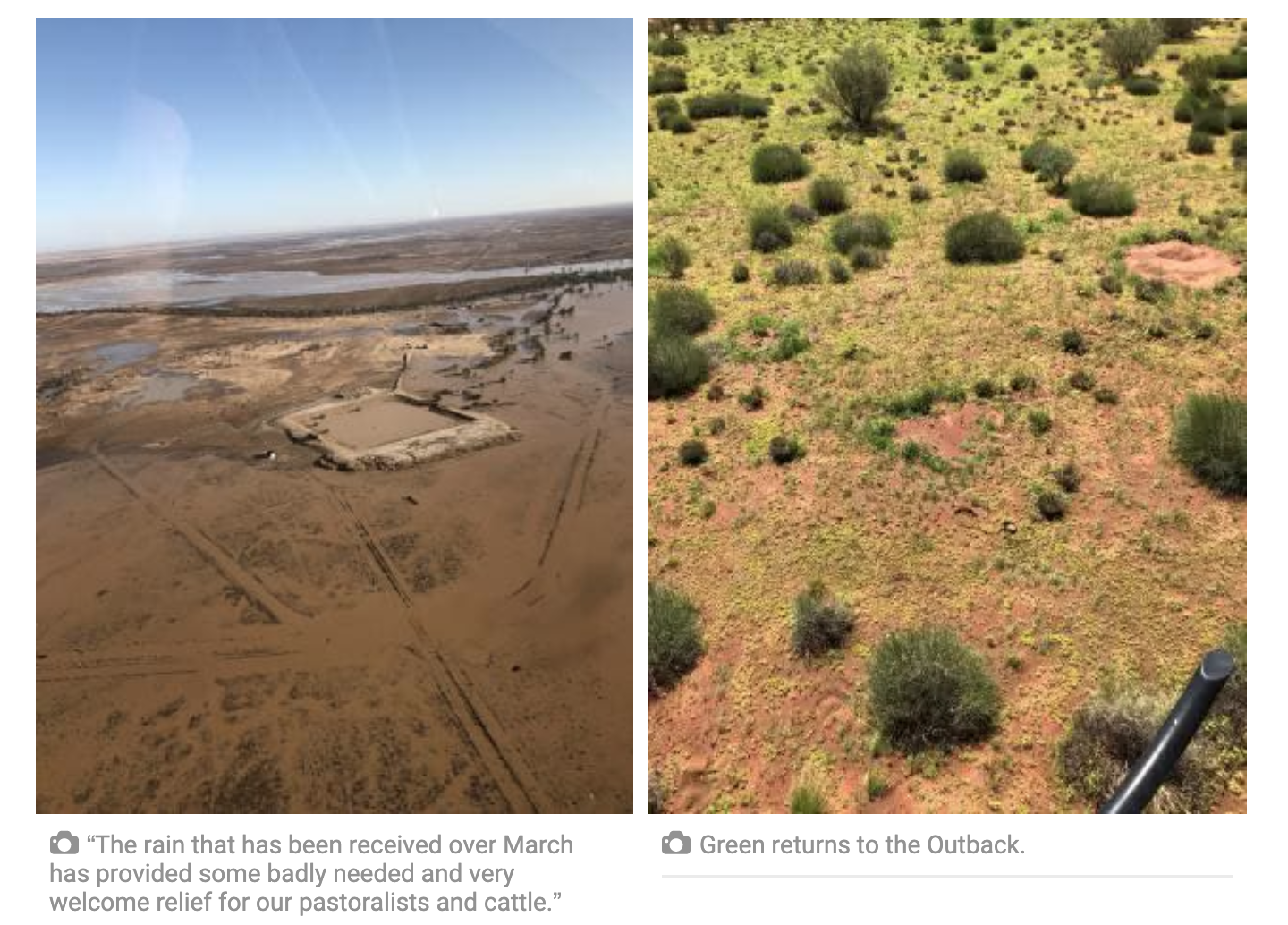 Mr Keough, who has managed Durham Downs for nine months after previously running the Kidman-owned Innamincka, said the rain had provided a huge morale boost.
Staff had had little or no leave during the drought. They had to continually shift cattle to find pasture and water.
"Our middle son, Lachie, just loves every aspect of station life and was very aware of the stresses of the dry. He would often draw pictures and write about the drought, which was sad for us," Mr Keough said.
"We tried to shield any stresses from the kids but they have common sense. He especially knew the impact of what the rain meant for us and the cattle."
Used to living in an isolated environment, these farmers and their families can teach us a bit about social distancing.
Mr Keough said their sons knew no different and were "active, intelligent and inquisitive – great boys".
"They have taught us that isolation is what you make of it – they are no more socially disadvantaged than any other child, in fact I think it makes them more rounded," he said.
"They love going to School of the Air camps and mini-schools with their friends but love … the opportunities, freedom and purpose that living this life gives them. They like to have responsibilities around the station, to feel they are part of the team.
"Isolation is a funny thing. When you are forced into isolation it can be lonely and daunting until you are more comfortable in your surroundings. But when you live it every day, you easily appreciate the small things. It's good character building; it brings good preparation for the unexpected."
Mr Keough said ultimately, isolation makes people value their family, friends, and community events even more.