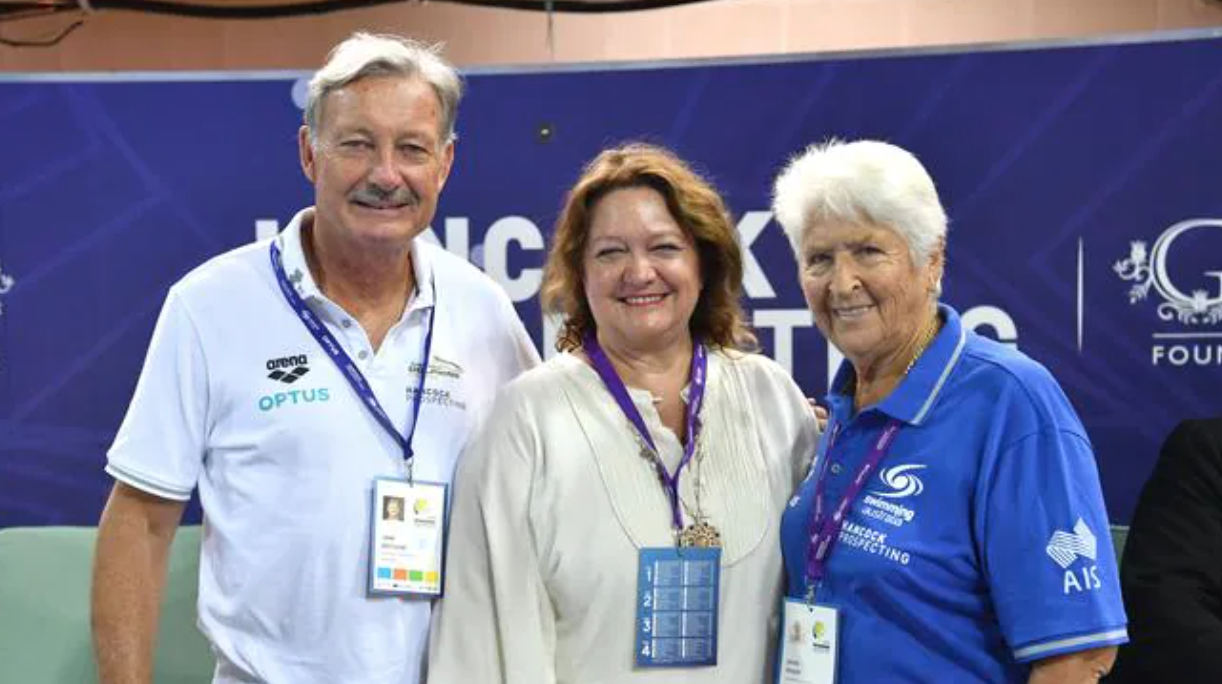 Article by John Stensholt and Jessica Halloran
Olympic legend Dawn Fraser wishes billionaire Gina Rinehart was around when she was at the peak of her swimming career.
Fraser, who famously won gold at three Olympics, considers "Mrs Rinehart" to be one of the secret weapons behind Australia's success at the Tokyo Games, where the country's athletes have won the most gold medals in history.
The mining magnate is one of Australia's biggest Olympic fans and contributes up to $10m annually to four Olympic sports: swimming, rowing, volleyball and artistic swimming.
What makes the contribution different from standard sports sponsorships is that much of the money gets paid to athletes directly. Instead of working odd jobs to pay rent and other living expenses, they concentrate on training and competing.
Fraser said the support of Rinehart, who was introduced to the sport by former Swimming Australia president John Bertrand, was crucial to helping athletes achieve their dreams of making Olympic teams.
"They've all done very, very well with the support of Gina Rinehart. I wish she had been around when I was swimming," Fraser says. "I mean, some people say, oh, well, she can afford it. But there are a lot of billionaires in this country that don't even bother to offer any of the sportsmen or women any support. She's come out and done it herself with no influence from anyone."
Australia trebled their swimming gold medals in Tokyo compared to 2016. Australian rowers doubled the gold medals they won in Tokyo and had more boats in finals. Rinehart became a sponsor and backer after London 2012.
Rinehart's funding means, for example, that 25 male and 25 female rowers are each paid $525 weekly. Gold medallist Lucy Stephan, part of the winning women's coxless four, says this was crucial to keeping her in the sport.
Stephan recalls having difficulty paying rent and having to move in with a friend's mother before Rinehart started directly supporting the rowers.
"We went to a centralised program in Canberra and Penrith. You're asking people to uproot their lives and leave their study or jobs behind. So this became our job, and when you have a job you get paid. The results that we had are testament to the backing (Rinehart) has given us. She is very supportive. It has been a game changer."
That support has extended to buying specialist starting block equipment for swimmers, organising training for the artistic (synchronised) swimmers with the Queensland Ballet, taking athletes on tours of the Australian outback and buying Paspaley jewellery for female medal winners and other gifts for males.
Rinehart is also close to beach volleyballer Taliqua Clancy, who struck up a connection with the billionaire when she told her she was from Kingaroy in Queensland and that Karyn Bjelke-Petersen, daughter of the late Queensland premier Sir Joh and friend of Rinehart, had been her school headmistress.
"Mrs Rinehart has been amazing … and with her support our journey to this point has been possible," Clancy said. "We have missed her in Tokyo."
Volleyball Australia president Craig Carracher considers Clancy – who won a silver medal with Mariafe Artacho del Solar on Friday – the best beach volleyballer in the world.
But in 2016, when Carracher told the Australian Sports Commission that if his sport received another $1m-$1.5m funding annually we could build a medal-winning beach volleyball team, he was turned down.
Carracher, the co-founder of student accommodation company Scape, and Rinehart put up the funds themselves instead.
Rinehart, 67, has already agreed to keep funding the four sports through to the Paris Olympics in 2024, and potentially through to the Brisbane Olympics eight years later.
"I have been asked to continue to Los Angeles (2028). You never know I am an elderly vintage but I rather hope I am around for 2032 as well," she recently told The Australian.
Fraser and Rinehart partied when Brisbane was awarded hosting rights last month. "We hit it off. I call her Mrs Rinehart, like she likes to be called," Fraser says. "But when I am with her by herself. I call her Gina. I really respect her and what she does for Swimming Australia."