Article by Peter Gleeson courtesy of the Courier Mail.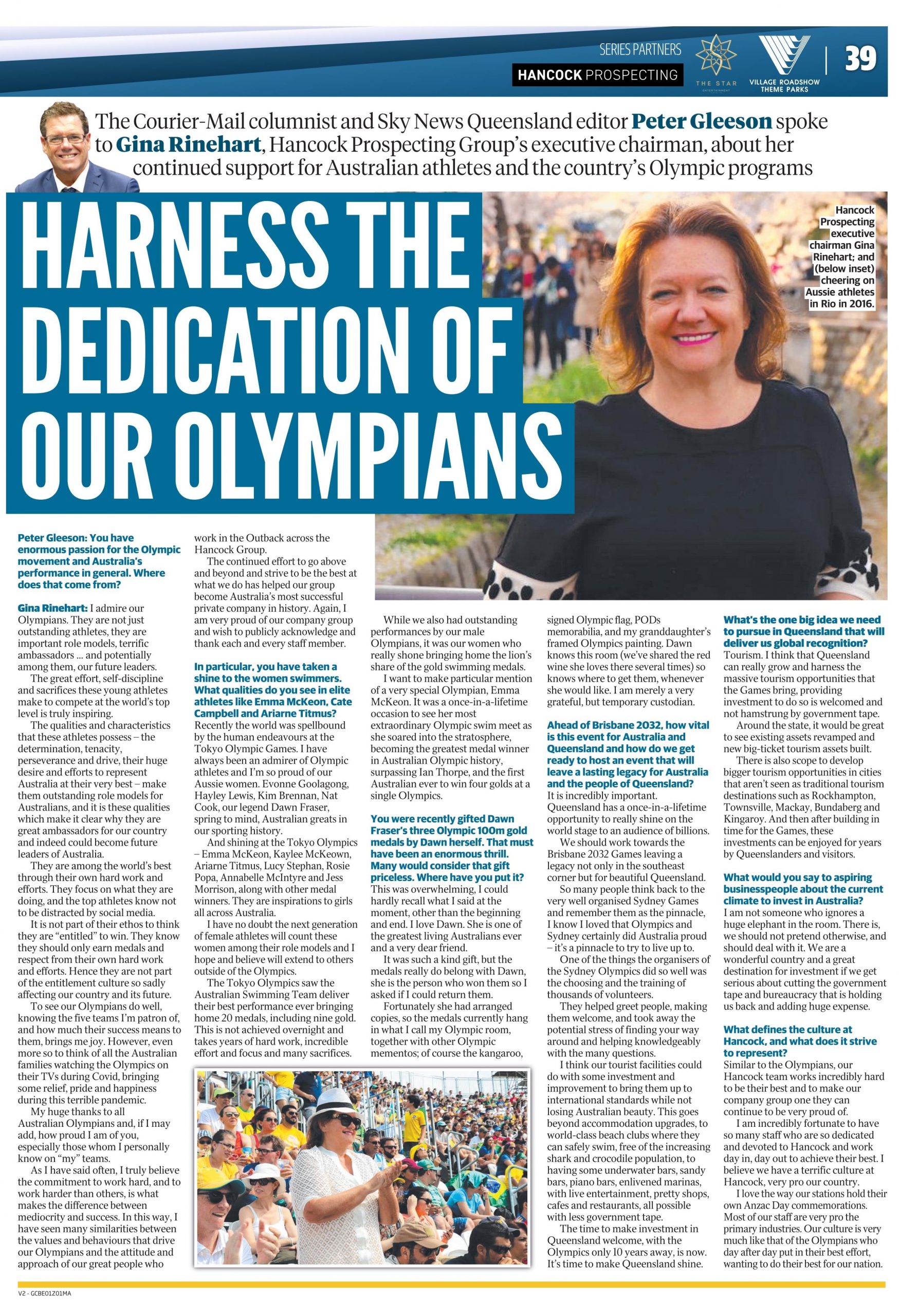 The Courier-Mail columnist and Sky News Queensland editor Peter Gleeson spoke to Gina Rinehart, Hancock Prospecting Group's executive chairman, about her continued support for Australian athletes and the country's Olympic programs.
Peter Gleeson: You have enormous passion for the Olympic movement and Australia's performance in general. Where does that come from?
Gina Rinehart: I admire our Olympians. They are not just outstanding athletes, they are important role models, terrific ambassadors … and potentially among them, our future leaders.
The great effort, self-discipline and sacrifices these young athletes make to compete at the world's top level is truly inspiring.
The qualities and characteristics that these athletes possess – the determination, tenacity, perseverance and drive, their huge desire and efforts to represent Australia at their very best – make them outstanding role models for Australians, and it is these qualities which make it clear why they are great ambassadors for our country and indeed could become future leaders of Australia.
They are among the world's best through their own hard work and efforts. They focus on what they are doing, and the top athletes know not to be distracted by social media.
It is not part of their ethos to think they are "entitled" to win. They know they should only earn medals and respect from their own hard work and efforts. Hence they are not part of the entitlement culture so sadly affecting our country and its future.
To see our Olympians do well, knowing the five teams I'm patron of, and how much their success means to them, brings me joy. However, even more so to think of all the Australian families watching the Olympics on their TVs during Covid, bringing some relief, pride and happiness during this terrible pandemic.
My huge thanks to all Australian Olympians and, if I may add, how proud I am of you, especially those whom I personally know on "my" teams.
As I have said often, I truly believe the commitment to work hard, and to work harder than others, is what makes the difference between mediocrity and success. In this way, I have seen many similarities between the values and behaviours that drive our Olympians and the attitude and approach of our great people who work in the Outback across the Hancock Group.
The continued effort to go above and beyond and strive to be the best at what we do has helped our group become Australia's most successful private company in history. Again, I am very proud of our company group and wish to publicly acknowledge and thank each and every staff member.
In particular, you have taken a shine to the women swimmers. What qualities do you see in elite athletes like Emma McKeon, Cate Campbell and Ariarne Titmus?
Recently the world was spellbound by the human endeavours at the Tokyo Olympic Games. I have always been an admirer of Olympic athletes and I'm so proud of our Aussie women. Evonne Goolagong, Hayley Lewis, Kim Brennan, Nat Cook, our legend Dawn Fraser, spring to mind, Australian greats in our sporting history.
And shining at the Tokyo Olympics – Emma McKeon, Kaylee McKeown, Ariarne Titmus, Lucy Stephan, Rosie Popa, Annabelle McIntyre and Jess Morrison, along with other medal winners. They are inspirations to girls all across Australia.
I have no doubt the next generation of female athletes will count these women among their role models and I hope and believe will extend to others outside of the Olympics.
The Tokyo Olympics saw the Australian Swimming Team deliver their best performance ever bringing home 20 medals, including nine gold.
This is not achieved overnight and takes years of hard work, incredible effort and focus and many sacrifices.
While we also had outstanding performances by our male Olympians, it was our women who really shone bringing home the lion's share of the gold swimming medals.
I want to make particular mention of a very special Olympian, Emma McKeon. It was a once-in-a-lifetime occasion to see her most extraordinary Olympic swim meet as she soared into the stratosphere, becoming the greatest medal winner in Australian Olympic history, surpassing Ian Thorpe, and the first Australian ever to win four golds at a single Olympics.
You were recently gifted Dawn Fraser's three Olympic 100m gold medals by Dawn herself. That must have been an enormous thrill. Many would consider that gift priceless. Where have you put it?
This was overwhelming, I could hardly recall what I said at the moment, other than the beginning and end. I love Dawn. She is one of the greatest living Australians ever and a very dear friend.
It was such a kind gift, but the medals really do belong with Dawn, she is the person who won them so I asked if I could return them.
Fortunately she had arranged copies, so the medals currently hang in what I call my Olympic room, together with other Olympic mementos; of course the kangaroo, signed Olympic flag, PODs memorabilia, and my granddaughter's framed Olympics painting. Dawn knows this room (we've shared the red wine she loves there several times) so knows where to get them, whenever she would like. I am merely a very grateful, but temporary custodian.
Ahead of Brisbane 2032, how vital is this event for Australia and Queensland and how do we get ready to host an event that will leave a lasting legacy for Australia and the people of Queensland?
It is incredibly important. Queensland has a once-in-a-lifetime opportunity to really shine on the world stage to an audience of billions.
We should work towards the Brisbane 2032 Games leaving a legacy not only in the southeast corner but for beautiful Queensland.
So many people think back to the very well organised Sydney Games and remember them as the pinnacle, I know I loved that Olympics and Sydney certainly did Australia proud – it's a pinnacle to try to live up to.
One of the things the organisers of the Sydney Olympics did so well was the choosing and the training of thousands of volunteers.
They helped greet people, making them welcome, and took away the potential stress of finding your way around and helping knowledgeably with the many questions.
I think our tourist facilities could do with some investment and improvement to bring them up to international standards while not losing Australian beauty. This goes beyond accommodation upgrades, to world-class beach clubs where they can safely swim, free of the increasing shark and crocodile population, to having some underwater bars, sandy bars, piano bars, enlivened marinas, with live entertainment, pretty shops, cafes and restaurants, all possible with less government tape.
The time to make investment in Queensland welcome, with the Olympics only 10 years away, is now.
It's time to make Queensland shine.
What's the one big idea we need to pursue in Queensland that will deliver us global recognition?
Tourism. I think that Queensland can really grow and harness the massive tourism opportunities that the Games bring, providing investment to do so is welcomed and not hamstrung by government tape.
Around the state, it would be great to see existing assets revamped and new big-ticket tourism assets built.
There is also scope to develop bigger tourism opportunities in cities that aren't seen as traditional tourism destinations such as Rockhampton, Townsville, Mackay, Bundaberg and Kingaroy. And then after building in time for the Games, these investments can be enjoyed for years by Queenslanders and visitors.
What would you say to aspiring businesspeople about the current climate to invest in Australia?
I am not someone who ignores a huge elephant in the room. There is, we should not pretend otherwise, and should deal with it. We are a wonderful country and a great destination for investment if we get serious about cutting the government tape and bureaucracy that is holding us back and adding huge expense.
What defines the culture at Hancock, and what does it strive to represent?
Similar to the Olympians, our Hancock team works incredibly hard to be their best and to make our company group one they can continue to be very proud of.
I am incredibly fortunate to have so many staff who are so dedicated and devoted to Hancock and work day in, day out to achieve their best. I believe we have a terrific culture at Hancock, very pro our country.
I love the way our stations hold their own Anzac Day commemorations.
Most of our staff are very pro the primary industries. Our culture is very much like that of the Olympians who day after day put in their best effort, wanting to do their best for our nation.