Article courtesy of Yahoo News.
Dining under the stars in the gardens of the White House in the company of billionaires and media barons – and a President of the United States – is something Scott Morrison is unlikely to forget.
The Australian Prime Minister and his wife, Jenny, have gathered to dine al fresco in the historic Rose Garden with 173 guests including mining magnates Gina Rinehart and Andrew "Twiggy" Forrest, golfer Greg Norman, and media barons Kerry Stokes and Lachlan Murdoch.
It is only the second such dinner US President Donald Trump has hosted for a foreign leader during his three years in office.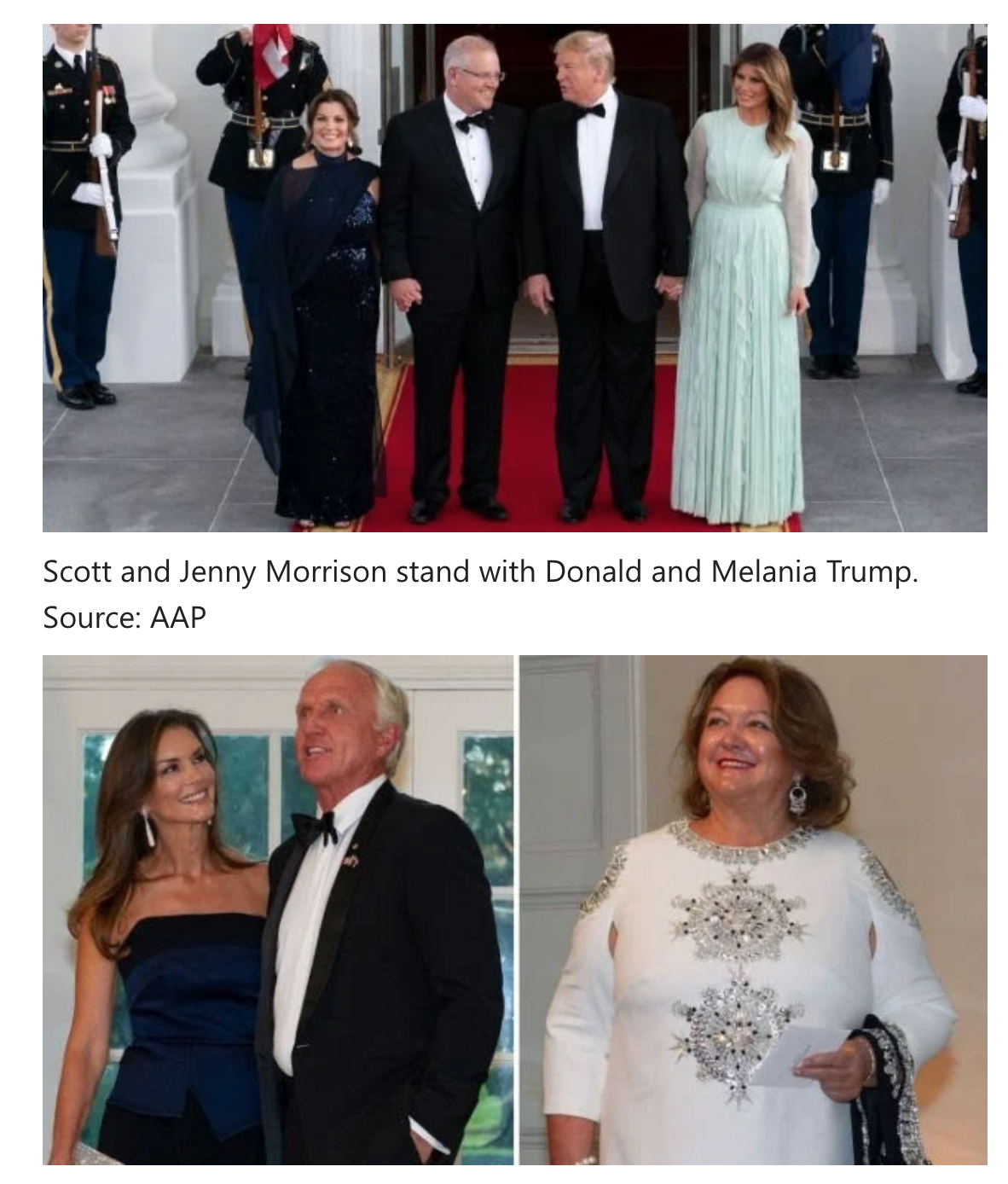 Mr and Mrs Trump greeted Mr and Mrs Morrison with handshakes and kisses on the Pennsylvania Avenue side of the mansion when they arrived Friday evening.
Music wafted across the South Lawn below an illuminated White House as guests descended the outside staircases to join the garden party.
Guests – including several Cabinet secretaries, members of Congress, White House staff and an Australian delegation that included Greg Norman – were seated at a mix of round and rectangular tables draped in alternating yellow and green tablecloths in tribute to Australia's national colours and dined on sunchoke ravioli, Dover sole and apple tart a la mode. Temporary flooring was laid over the grass.
Dinner centrepieces were made using more than 2500 yellow California roses and Australia's national flower, the golden wattle, while the garden itself was decorated with white and yellow roses.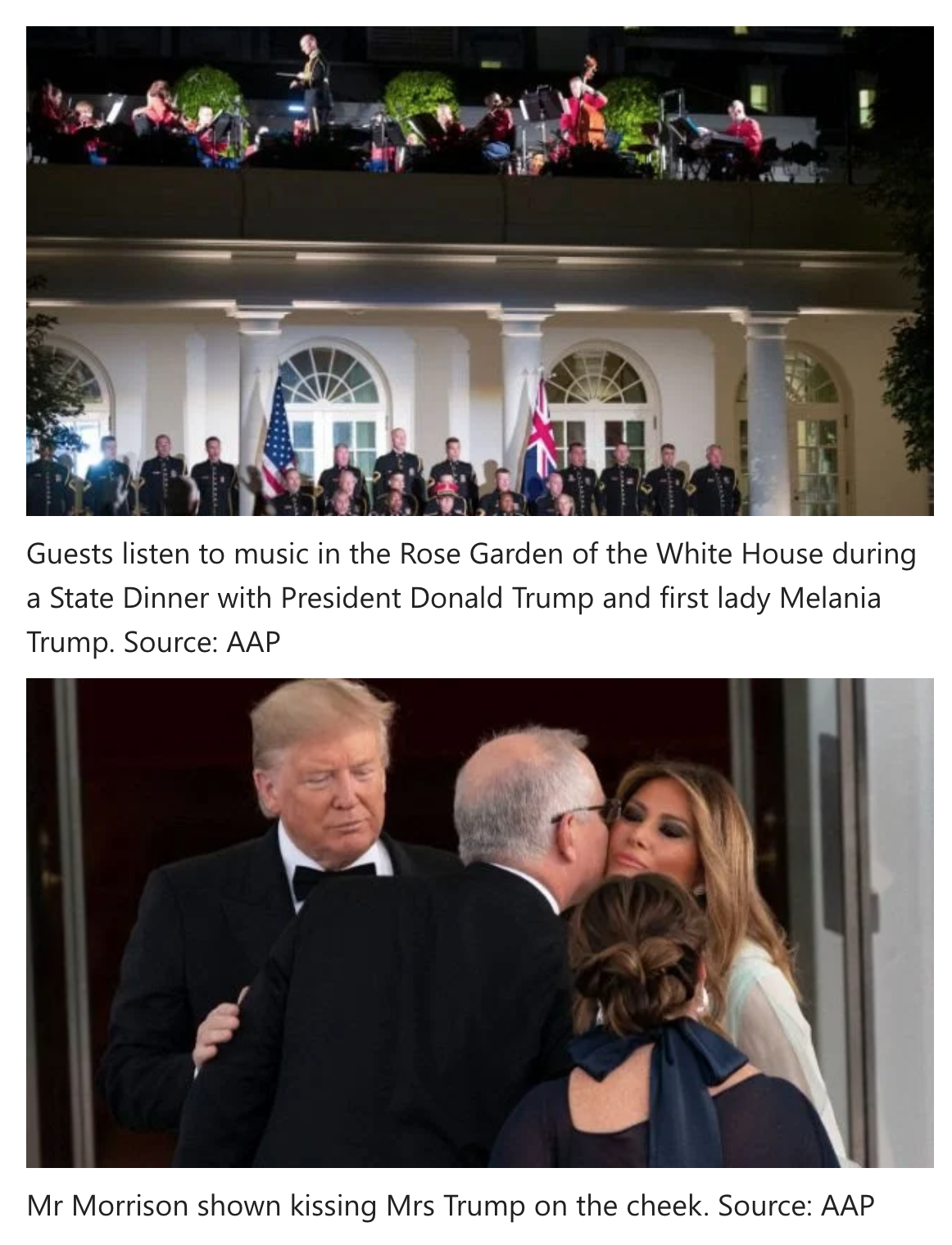 Music came from all four sides of the Rose Garden and from above. The singers and musicians represented the Army, Navy, Air Force and Marine Corps and surrounded the party, while a band played on the roof of the West Wing. At one point, a violinist wound through the tables while playing her instrument.
The first lady wore an aqua silk chiffon gown by J. Mendel with inserted pleats and bias cut waves, the White House said. Mr Morrison's wife Jenny wore a midnight blue sequinned halter-style gown.
In remarks before the three-course meal was served, Mr Trump raised his glass to a "very special people and a very, very special country".
He had said earlier Friday he would love to attend the 2019 President's Cup golf tournament in Australia in December if his schedule will allow it.
In return, Mr Morrison praised the first lady's "quiet grace" and toasted to 100 years of "mateship" between the US and Australia.
Mr Trump's attorney Rudy Giuliani was also among the more than 170 guests.
The Trumps welcomed the Morrisons earlier on Friday for the state visit with a spirited arrival ceremony on the South Lawn.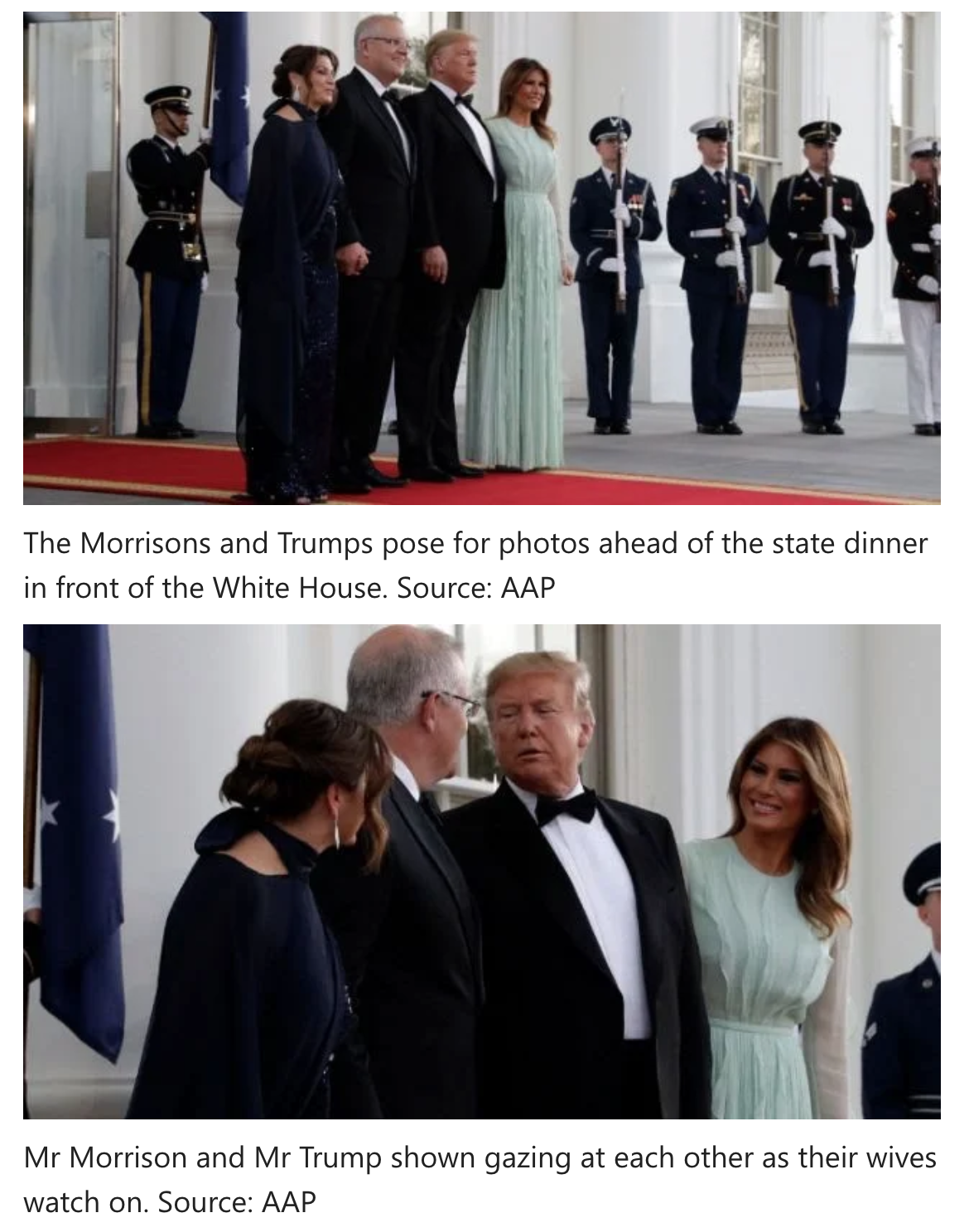 Mr Morrison and Mr Trump shown gazing at each other as their wives watch on. Source: AAP
The welcome featured Marine band performances of the two nations' anthems, a 19-gun salute and inspection of US troops.
Hundreds of guests, including school children waving miniature Australian and American flags, were on hand to welcome them.
After the arrival ceremony, Mr Trump and Mr Morrison went inside to begin their talks.
The US president labelled the Australian prime minister a "man of titanium" as he reaffirmed the close US-Australia ties in their first meeting in the Oval Office.
In a reference to George W. Bush's "man of steel" label for John Howard, the last Australian leader to be honoured with a full state visit to the United States, Mr Trump picked a harder metal.
"You know, titanium's much tougher than steel," he told reporters at the White House on Friday.
"He's a man of titanium, believe me, I have to deal with this guy.
"You might think he's a nice guy, okay, he's a man of real, real strength and a great guy."