Article by Carly Douglas courtesy of the West Australian.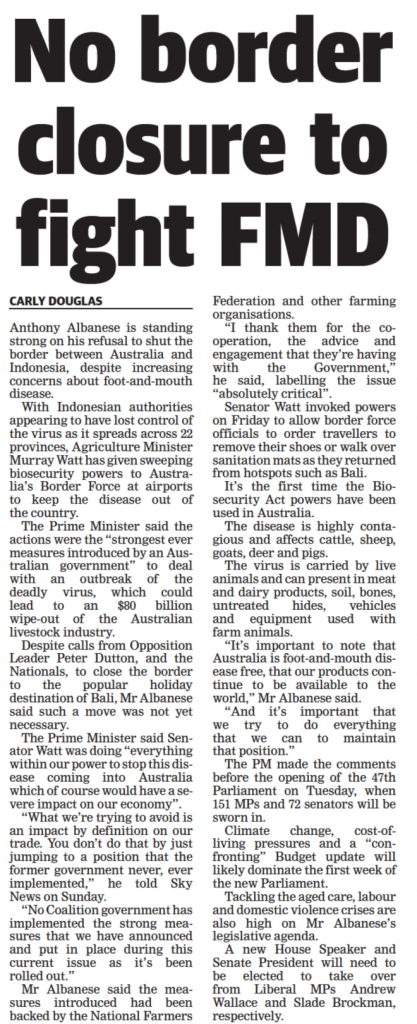 Anthony Albanese is standing strong on his refusal to shut the border between Australia and Indonesia, despite increasing concerns about foot-and-mouth disease.
With Indonesian authorities appearing to have lost control of the virus as it spreads across 22 provinces, Agriculture Minister Murray Watt has given sweeping biosecurity powers to Australia's Border Force at airports to keep the disease out of the country.
The Prime Minister said the actions were the "strongest ever measures introduced by an Australian government" to deal with an outbreak of the deadly virus, which could lead to an $80 billion wipe-out of the Australian livestock industry.
Despite calls from Opposition Leader Peter Dutton, and the Nationals, to close the border to the popular holiday destination of Bali, Mr Albanese said such a move was not yet necessary.
The Prime Minister said Senator Watt was doing "everything within our power to stop this disease coming into Australia which of course would have a severe impact on our economy".
"What we're trying to avoid is an impact by definition on our trade. You don't do that by just jumping to a position that the former government never, ever implemented," he told Sky News on Sunday.
"No Coalition government has implemented the strong measures that we have announced and put in place during this current issue as it's been rolled out."
Mr Albanese said the measures introduced had been backed by the National Farmers Federation and other farming organisations.
"I thank them for the cooperation, the advice and engagement that they're having with the Government," he said, labelling the issue "absolutely critical".
Senator Watt invoked powers on Friday to allow border force officials to order travellers to remove their shoes or walk over sanitation mats as they returned from hotspots such as Bali.
It's the first time the Biosecurity Act powers have been used in Australia.
The disease is highly contagious and affects cattle, sheep, goats, deer and pigs.
The virus is carried by live animals and can present in meat and dairy products, soil, bones, untreated hides, vehicles and equipment used with farm animals.
"It's important to note that Australia is foot-and-mouth disease free, that our products continue to be available to the world," Mr Albanese said.
"And it's important that we try to do everything that we can to maintain that position."
The PM made the comments before the opening of the 47th Parliament on Tuesday, when 151 MPs and 72 senators will be sworn in.
Climate change, cost-ofliving pressures and a "confronting" Budget update will likely dominate the first week of the new Parliament.
Tackling the aged care, labour and domestic violence crises are also high on Mr Albanese's legislative agenda.
A new House Speaker and Senate President will need to be elected to take over from Liberal MPs Andrew Wallace and Slade Brockman, respectively.