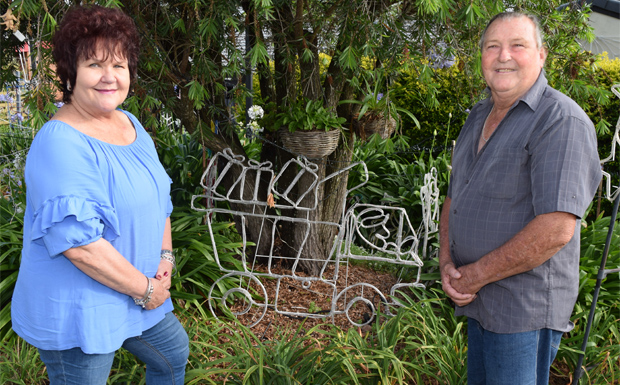 This year's grand prize winners, Veronica and Geoff Hartwig, take a month every year to assemble their enormous Christmas lights display in Kingaroy.
 
December 17,2018
South Burnett Times
For the past 15 or 16 years, Kingaroy couple Geoff and Veronica Hartwig have been decorating their home at 97 Ivy Street with Christmas lights.
They have picked up a couple of small prizes over the years, but this year their hard work really paid off … they have won the $15,000 first prize in the South Burnett's Christmas Lights competition.
Over the years, the couple's collection of Christmas lights has grown so extensive it now fills one and a half sheds in their backyard and a bedroom of their house during the off season.
They've lost count of exactly how many lights they own, but estimate it comes to several thousand.
The family spends most mornings in November putting up the annual display in readiness for the crowds of visitors who begin arriving to view it each December.
Veronica said the property can play host to more than 100 visitors a night during the festive season.
"People can get out of their cars and walk through the displays, and Geoff dresses up as Santa and hands out treats to the children," she said.
The pair only began entering Council's Christmas Lights competition in 2009, and have won the Kingaroy urban section several times over the past nine years.
But Veronica said the couple was surprised to receive a phone call from South Burnett Mayor Keith Campbell on Monday morning to inform them they'd been judged this year's Grand Prize winners.
Thanks to major sponsors Hancock Prospecting and the Georgina Hope Foundation, the Hartwigs have won a luxury $15,000 holiday in Singapore.
The holiday – for two adults and two children aged up to 12 years – includes return economy flights from Brisbane to Singapore, five nights' accommodation at the Shangri-La Hotel with breakfast daily, return private transfers between Singapore Airport and the Shangri-La Hotel, high tea at Raffles and comprehensive travel insurance.
Geoff said the couple don't have passports at the moment so this was something they'll look into soon.
The couple will be celebrating their 45th wedding anniversary in 2019, which will make the Singapore trip especially memorable.
Geoff said over the years the couple have steadily upgraded their displays to take advantage of new technology.
They started out with traditional light bulbs, but have now moved to LEDs.
"The LEDs are much brighter," Veronica said.
"And it's cut our December power bill from an extra $60 to about $30, which is handy, too."
The weather has posed a few issues for the couple this year, with some inflatable displays being moved indoors when gusty storms were forecast.
But the pair are determined the spirit of Christmas will continue twinkling brightly in their front garden every December, although they may have to stop expanding their annual display soon.
"Really, we're starting to run out of space to store it all," Geoff laughed.
2018 Christmas Lights Competition Winners
The winners of the other sections of this year's Christmas Light Competition were announced by the South Burnett Regional Council on Tuesday, December 18.
This year's competition offered $100 first prizes and $50 second prizes for Urban and Rural entries from Blackbutt, Nanango, Kingaroy, Wondai-Proston and Murgon. There were no second prize winners in the Murgon Rural and Kingaroy Rural categories this year.
1st Nanango Urban: Francis Honey, 45 South Street, Nanango
2nd Nanango Urban: Ian and Mel Donald, 31 Appin Street, Nanango
1st Nanango Rural: Ken and Dianne Lawes, 102 Muir Drive, Nanango
2nd Nanango Rural: Scott P:edron, 22 Tanduringie Drive, Tarong
1st Murgon Urban: Malcolm and Cassandra Bayntun, 79 Douglas St. North, Murgon
2nd Murgon Urban: C. and M. Suchoronezak, 9 Goodchild Drive, Murgon
1st Murgon Rural: Lindenberg family, 1265 Gayndah Road, Merlwood
1st Wondai Urban: Rebecca Payne, 17 Bailey Street, Wondai
2nd Wondai Urban: Tracvie Hoyland, 45 Beresford Street, Proston
1st Wondai Rural: The Bartlett-Kennedy family, 30 Amaroo Drive, Wondai
2nd Wondai Rural: Keith McConnell, 343 K. Duff Road, Coverty
1st Blackbutt Urban: Dale Gersekowski, 39 Fern Street, Blackbutt
2nd Blackbutt Urban: Bill Williamson, 27 Crofton Street, Blackbutt
1st Blackbutt Rural: D. Trousdell, 23 Bowman Road, Blackbutt
2nd Blackbutt Rural: Patricia Skilton, 944 Old Esk Road, Blackbutt

1st Kingaroy Urban: Carolyn Dingle, 25 Carroll Street, Kingaroy
2nd Kingaroy Urban: Russell and Judy Dugdell, 70 Rosella Parade, Kingaroy
1st Kingaroy Rural: Lucas Family, 3 Booie-Crawford Road, Kingaroy
Article courtesy of southburnett.com.